What affects my mortgage rate?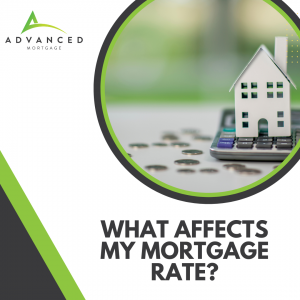 In todays market, you can no longer simply ask "what is the best mortgage rate." Lenders look at many factors that decide what options and rates are available to every client.
Here is a quick list of the most important items a lender will consider and how it will affect you:
Credit score and credit repayment history

Your beacon score affects what rates you can obtain
If you have bruised credit, you can still get a mortgage, but the interest rate may be higher.

Annual income and the nature/length of employment

Are you self-employed? Paid by salary? Hourly? Different rules apply in all scenarios, and just because your income is unique does not mean you don't qualify for a mortgage.

Purchase price

Over $500K, you need 10% down for the amount over $500K.
Over $1 million, you need more than 20% down + additional funds based on sliding scale rules.

Down payment amount

Putting anywhere from 5% to 35% down on a mortgage gives you a wide range of different available rates.
Source of down payment – if you are borrowing funds or if they are a gift from family, this affects your rate.

Reason for the purchase

Are you buying this a rental? A second home? Different rules and rates apply for different occupancies.

Location of the property

Buying in a major centre can be different than in a rural area. Where you want to buy may limit your rate options
If you are buying on leased land this has other implications
With the all the changes and new rules in our industry, coupled with the fact that rates change daily, your best bet is to get in contact with a mortgage professional to find the best option for you. Even if you are pre-approved at your bank, getting a second opinion is not just a good idea, but crucial to ensuring your financial health. With access to countless lenders in Canada, a mortgage professional can ensure your best chance at an approval. Just because you we're declined at a bank, doesn't mean you can't buy a house!
Please feel free to contact us at Advanced Mortgage for any of your mortgage questions!